Being in the spotlight 24/7 means that most celebrities don't have time to recover from surgery, so many opt for treatments that require no downtime. One of the most popular procedures among celebrities is CoolSculpting. This non-surgical liposuction alternative is proven to freeze and ultimately destroy fat cells without having to go under the knife. Many celebrities are jumping on board with this incredible 100% non-invasive treatment and can't get enough. Here are some celebs who have done CoolSculpting and shared their experience and love for the procedure. 
1. Jennifer Aniston
This one may be a shocker to most, I mean, who would guess this seemingly flawless celeb would undergo a fat-freezing procedure. However, it's important to note, no matter how in shape someone may look, many of us can find a pocket of stubborn fat we would love to get rid of.
Jennifer Aniston stated that she "loves lasers and non-invasive treatments." Thanks to CoolSculpting, she was able to remove her stubborn pockets of fat without surgery, this is a significant win for this A-list celebrity who is always in the spotlight.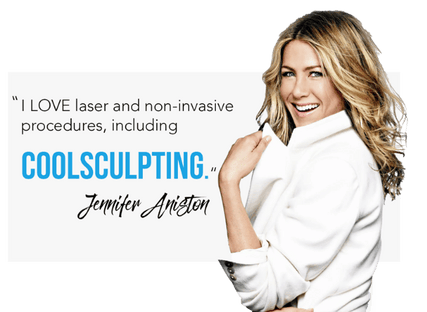 2. Kris Jenner
Like her daughter, Khloe Kardashian, Kris Jenner has also opted for this non-invasive procedure. Featured on an episode of 

Keeping Up With the Kardashians

, Jenner brought along friend, Joyce Bonelli where they both got CoolSculpting. Kris Jenner, along with the whole Kardashian/Jenner clan, is a big fan of CoolSculpting.
3. Mariah Carey
In 2015, the beautiful and talented, Mariah Carey showed off her fabulous curves and noticeably slimmer figure at the Macy's Thanksgiving Day Parade. Many wondered how the mom of 2 was able to slim down so fast. Carey explains how she was able to sculpt her body, saying, "I did it the conventional way of course – diet and CoolSculpting!"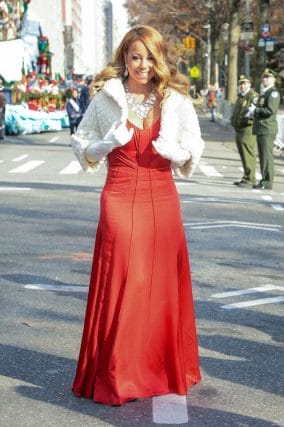 4. Molly Sims
Molly Sims

, supermodel and mother of three, decided to give CoolSculpting ago after struggling to lose fat after giving birth to her second child. Sims was super impressed with her CoolSculpting results and praised the zero downtime of 

CoolSculpting

. She stated, "There was no downtime. It's perfect for busy moms!" 
Sims has been a huge advocate for CoolSculpting and has become a prominent spokesperson for the CoolSculpting brand. She wants to reach other women in the same situation as her because, as she did, they may also benefit from CoolSculpting.
As the popularity of CoolSculpting rises, many more celebrities are taking part in this non-invasive procedure. If you're like us (or these celebs) and have tried everything from dieting to working out and still can't seem to get that stubborn fat off, then CoolSculpting is the answer. As they say, 'Stars they're just like us!'  At BodySquad we currently have an amazing special going on for first-time patients. Fill out the form below to get on your way to your dream body!
BOGO pricing on CoolSculpting package!
BOGO pricing on CoolSculpting packages - first-time patients ONLY!