Transformation of the Week at BodySquad
In this week's Transformation of the Week, we are highlighting a woman who had remarkable results on her lower abdomen with a non-invasive tummy tuck. We often get people coming in asking us to help them with their "Mommy Pooch". Many women find their bodies have changed after having kids or simply due to aging. They find they have excess fat around their lower belly area that tends to protrude or stick out.
With CoolSculpting, we are able to target this area and help eliminate the pooch leaving a smoother and tauter lower abdomen. Take a look at the women's results below!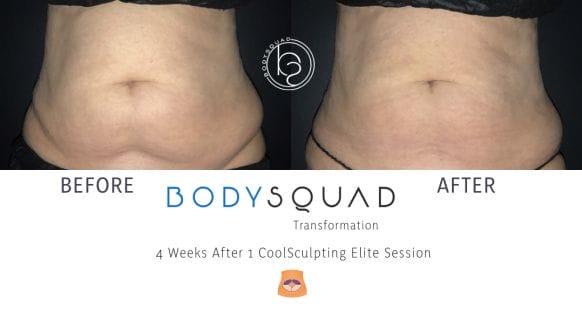 View more bodysculpting transformation photos from BodySquad here.
Save 50% on your CoolSculpting treatments at BodySquad!
CoolSculpting Elite is offering faster treatments, better results, at 50% of the cost! What could be better than that? Provide your information below to save 50% on your future CoolSculpting treatments! (Minimum of 8 cycles required).
You can also call us at 561-903-4945 or send an email to squad@thebodysquad.com.