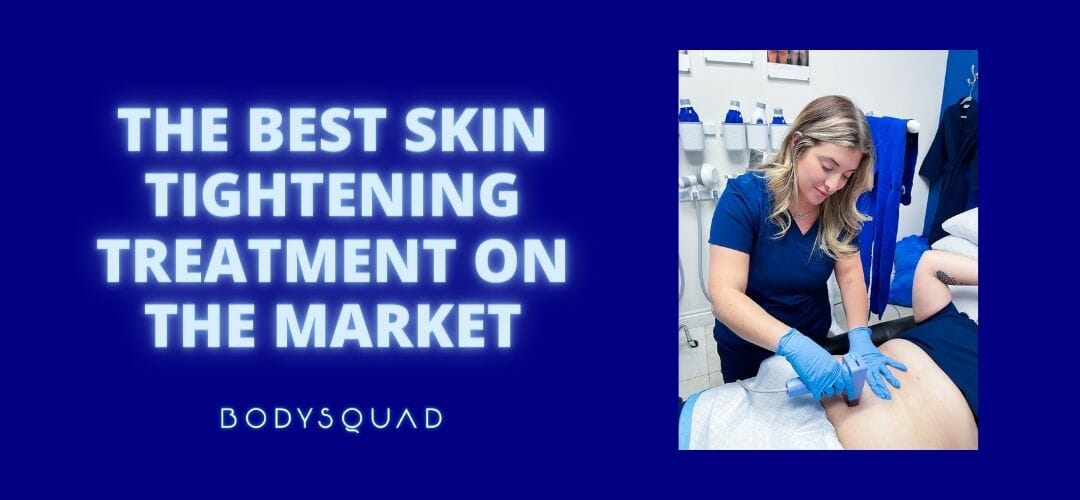 Want to hear some good news? With many skin tightening treatments on the market, it can be hard for a consumer to find the best treatment on the market, that's why we did the work of testing different products on the market as well as doing in-depth research so you don't have to! We are here to share with you our findings of the BEST skin tightening treatment on the market, the Morpheus8 RF microneedling treatment! Non-surgical skin remodeling is all the rage these days, but if you can only use one treatment, Morpheus8 should be your top choice. Find out why below.
The Hottest Trends in Skin Tightening
With the plethora of skin tightening treatments on the market, it can be hard to choose the right one for you. 
Stop relying on guesswork, here's a rundown of some of the hottest trends in body contouring and how Morpheus8 fares against them.
Ultrasound Treatment: This procedure uses micro-focused ultrasound energy to lift the skin of the face, neck, and chest. Ultherapy® is a popular brand used for this treatment. It works by releasing ultrasonic energy that heats up the targeted tissue to promote collagen production and tighten skin. 
Intense Pulsed Light (IPL): It is usually performed to get rid of spider veins and sun damage as well as improve skin texture, laxity, and pigmentation. It works by delivering multiple wavelengths of light energy into the deeper layer of the skin.
Radiofrequency Therapy (RF): Unlike IPL, RF sends heat into the skin's outer layer (epidermal) to boost the production of new collagen. In some procedures, such as the EmbraceRF®, a small incision is required to penetrate the deeper tissue or the dermal layer. 
Morpheus8® is the latest trend in RF skin tightening which combines microneedling with radiofrequency, eliminating the need for a surgical incision. Instead, it uses multiple thin needles to create micro-injuries in the skin. These micro-injuries activate a rapid healing process and stimulate the production of collagen and elastin fibers. 

Why Morpheus8 is the Best Skin Tightening Treatment for the Body
1. It is the most effective
Do you want to bring back your smooth abdominal skin post-pregnancy? Do you want to reduce stretch marks that have accumulated over the years? Morpheus8 will take care of that. RF + microneedling is the best treatment for smoothing wrinkled skin, shrinking fatty tissue, and fading scars and stretch marks. 
It is also recommended for young patients who want to delay the need for a surgical lift. While microneedling is a great treatment alone, the addition of radiofrequency enhances dermal remodeling so you'll get visible, long-lasting results.
2. You can see noticeable results after just 1 treatment 
Since you will get a combination of treatments in just one visit, the results are simply remarkable. Morpheus8 is an inexpensive alternative to surgery. There are other non-invasive procedures, but they sometimes require 6 to 10 treatments to be effective. With Morpheus8, you will get visible results after your first treatment which continue to improve within 3-6 months. 
3. It is safe to use on the body
Now here's another huge advantage of Morpheus8 over other cosmetic procedures on the market: it's the first and only FDA-cleared treatment that is safe to use anywhere on the body. The procedure is quick and relatively painless. Get rid of those saggy belly skin, tiger stripes, and lumpy cellulite on your thighs and buttocks—all in one treatment. 
4. It has minimal downtime
This form of skin tightening is well tolerated with minimal downtime. Complications are rare and tend to go away on their own without treatment. Some reported side effects include redness, irritation, mild swelling, and pain. 
Healing time is relatively shorter compared to other skin rejuvenating procedures. For deeper treatments, you may experience flaking, bruising, and light peeling. 
5. The results are long-lasting
In some patients, one treatment is enough to address mild skin laxity and improve skin texture. To enjoy optimum results, we suggest at least a series of 3 treatments initially, spaced 3-4 weeks apart. After the first 3 sessions, our patients usually visit the clinic once a year for maintenance. 
The amount of collagen you lose increases with age. The gradual decline of collagen starts in your 20s. Starting the procedure at this time prevents sagging skin and keeps your body smooth, supple, and healthy-looking. Still in doubt if Morpheus8 is for you? Get your free consultation and treatment plan today!
Ready to take your first step towards tighter, smoother skin? Provide your information for a free Morpheus8 consultation at our practice in Boca Raton, FL below!