Transformation of the Week at BodySquad
This week, we're highlighting an impressive before/after from one of our patients who treated her back at BodySquad. This patient treated her flanks (love handles) and her bra fat area with 1 session of CoolSculpting Elite. Six weeks out and the patient is already seeing fantastic results and her results will continue to get even better! We are so excited to be seeing more prominent bodysculpting results in a shorter amount of time with CoolSculpting Elite.
CoolSculpting worked effectively to target the areas the patient was unsatisfied with. The result is a smoother back with less noticeable fat and a slimmer flank area. The patient is so satisfied with her results and will continue with more CoolSculpting Elite treatments in these areas.
Take a look at her results below!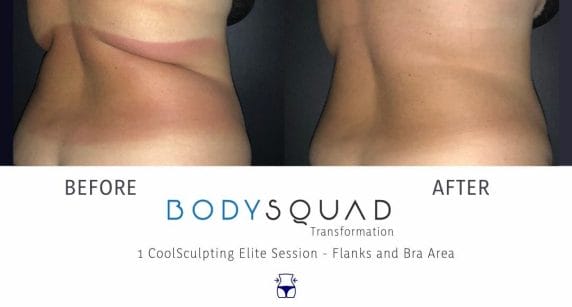 View more bodysculpting transformation photos from BodySquad here.
Save 50% on your CoolSculpting treatments at BodySquad!
CoolSculpting Elite is offering faster treatments, better results, at 50% of the cost! What could be better than that? Provide your information below to save 50% on your future CoolSculpting treatments! (Minimum of 8 cycles required).
You can also call us at 561-903-4945 or send an email to squad@thebodysquad.com.